Can the Silicone Folding Lunch Box be Heated in the Microwave?
Views:203 Author:Site Editor Publish Time: 2020-06-17 Origin:Site
Recently, silicone lunch boxes appear frequently on the market. Many people have the question: Are silicone lunch boxes safe? The silicone lunch box is a very commonly used silicone kitchenware. It looks very elegant, the quality is relatively good, easy to carry, and it is not very heavy, but many people do not know the advantages of silicone lunch box. Some people think that silicone material are very harmful to the body. Is silicone lunch boxes toxic? Silicone lunch boxes are non-toxic and can be used with trust.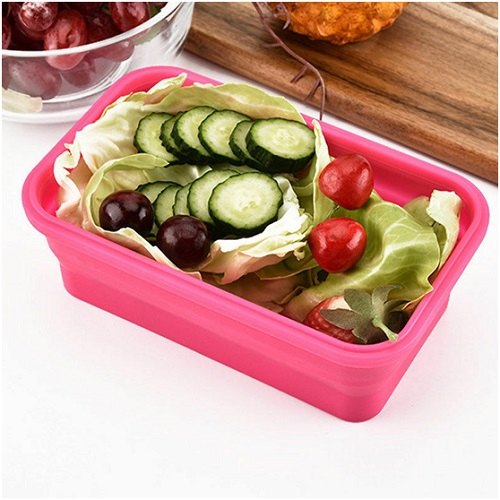 Silicone tableware is still a very rusty thing for Chinese. Food grade silicone has been proven to be a very healthy and safe material. In European and American countries, stainless steel cake baking trays are increasingly being replaced by silicone rubber baking trays, and when they grill meat, they no longer use brushes, instead they use silicone brushes. They use silicone cream spatulas, silicone membranes to keep food fresh, and even the steamer is made of silicone rubber. But what the public does not know is that all the silicone products used in contact with food are all made in China, and some factories with strict production processes have obtained these European and American silicone orders.
According to incomplete statistics, in China, more than 50,000 tons of silicone rubber are used for the production of tableware every year. 90% of these silicone kitchenware are exported to Europe and the United States, and the sales in our country are very rare. This very environmentally friendly and healthy material has not been widely used in China for a long time. In addition to being related to our natural prudence, the bigger reason is that we have few channels to understand this material. The silicone lunch box are made of food-grade silicone material, which is non-toxic, dry, safe, and environmentally friendly; it can be folded, kneaded, turned, etc., it does not take up space, and it does not absorb oil. So there is no moldy change due to long-term storage. It works well with keeping food temperature. Regardless of whether the food is cold or hot, silicone cutlery can maintain the temperature of the food, reduce the temperature lapse. The food placed in the silicone container can maintain the original temperature for a period of time.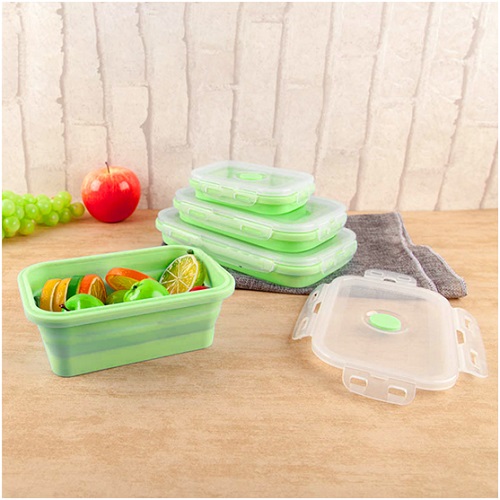 Compared with the ceramic lunch box, the biggest feature is that it is resistant to falling, and there will not have noise when it falls on the ground. The ceramic tableware commonly used by Chinese people is good, but it is fragile, and plastic tableware can withstand falling. However, the hardness of plastic is high, and there may be cracks after the fall. How about silicone lunch box? There is no need to worry about destruction no matter how it falls.
The heat resistance of silicone is very good, it won't be deformed or deteriorated at a high temperature of 240 degrees Celsius, and it will not harden at -40 degrees Celsius, so you can use it for steaming, cooking, roasting, etc. Therefore, the silicone lunch box can be heated in a microwave oven.